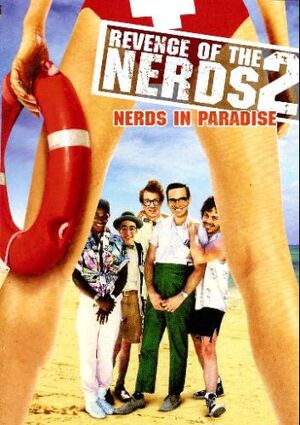 Revenge of the Nerds II: Nerds in Paradise

Directed By:

Joe Roth

Written By:

Steve Marshall

Released:

July 10th, 1987

Run Time:

98 Minutes

Budget:

$10 Million

Gross Revenue:

$30,063,289

Proceded By:

Followed By:
Plot
[
]
Lewis and the Tri-lambs are on thier way Fort lauderdale, Florida to for a national fraternity convention but as they arrive, the alpha betas try to goet of them for good. Now the nerds must come with a plan to stop the Alpha betas for destroying them and protect thier titles.    
Cast
[
]
Robert Carradine as Lewis Skolnick
Anthony Edwards as Gilbert Lowe
Curtis Armstrong as Booger Dawson
Larry B. Scott as Lamar Latrell
Timothy Busfeild as Arnold Poindexter (last appearance)
Andrew Cassese as Harold Wormser
Courtney Thorne Smith as Sunny Carstairs
Bradley Whitford as Roger
Barry Sobel as Stewart
James Hong as Snotty
Donald Gibb as Ogre
Tom Hodges as Tiny
James Cromwell as Mr. Skolnick
Trivia
[
]
This is the only film not to feature Betty Childs, Stan Gable, Takashi and U.N. Jefferson.
This is the final appearance of Poindexter.
Although Betty didn't appear in this film, a photo of her can be seen on lewis' desk at the beginning of the film.